Welcome to Promotional Products Toronto!
Proudly serving all of the Greater Toronto Area since 1999!
Three Great Advantages Of Using Promotional Products
Have you noticed that people are trying to give you something all the time? Retail stores and grocery stores are notorious for enticing you to buy something of greater value by trying one of their products. That's their strategy. And what they're offering you is something that usually appeals to a wide audience, including yourself, whether it's a tool accessory in a hardware store or a wine tasting in a grocery store. There are three qualities in particular that make this strategy so appealing: the promotional products are complementary, cost effective, and measurable.
What I mean by complementary is that they work well with a wide variety of promotions. If, for example, you're hosting an on-site radio promotion—these events are popular for car dealerships, seasonal festivals, and charity celebrations—you might give out T-shirts and pens and balloons and those types of things. In terms of other media, you can also provide USB drives to engage your audience with slideshows, PDF files, or additional web links. You can actually incorporate your message right into that particular item. And more recently, the promotional product you choose could be something that helps the recipients use their smart phone or tablet. You get a drive with a stylus attached or a stylus pen so that they can operate your products outdoors. It's great. These products are very complementary and they work well with a gifting strategy. So, if you're looking to reward or thank people, they have an advantage in that they also make great gifts.
Another advantage to promotional products is how cost effective they can be. They are one of the least costly investments you can make in developing your marketing plans. Think of it in terms of "cost per impression." Even though there are some other low cost-per-impression forms of media, something like a TV commercial might cost you a million dollars or more, especially if you're targeting a highly watched time slot, like during the Superbowl or the March Madness college basketball playoffs. You would get an enormous number of views for that million dollars and, as a result, the cost per impression would be low, but the upfront cost is quite prohibitive. Or you can do something with a promotional product for several hundred dollars, and you can get the same kind of penetration with multiple impressions that you would with more expensive media. For example, a Post‑It note has a great shelf life and gets seen over and over again. Studies show that each Post‑it note gets approximately 17 views, so a $2.00 stack of 100 Post‑It notes will get you 1700 views. That's a great investment.
The other advantage of promotional products that I want to discuss today is how measurable they are. You can code your promotional products and distribute them in a response based program so that you have the capability of gauging how responsive recipients are to receiving them. You can add QR codes, or provide web links, or otherwise customize them with specific contact information, like a special toll-free number set up just for this promotion. This will give you a great measure of how productive your promotional products really are. Or you can tie your promotional items to specific measurable actions that your customers have to accomplish in order to receive them. For instance, on a retail site or through POP signage you can announce that with three (or more) proofs of purchase the customer will receive a custom-designed T-shirt. Of course, you decide how many proofs of purchase and what shipping and handling charges accompany the offer. It's just one more way that you can do measurable campaigns.
So to make sure your promotional campaign measures up, look for complementary items with a high perceived value. If you're not sure what will work best for you and your target market, don't hesitate to get in touch with us today, we'd love to help with your next promotion.
Richview Square, 250 Wincott Drive,

P.O. Box 18535
Toronto, Ontario,

Canada M9R 4C8
Email: quotes@promotionalproductstoronto.ca
Featured Item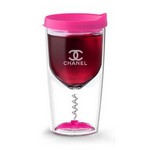 Vino Opener Cup
The Vino Opener has all the great benefits that you know and love from the Vino2Go. Now with an added 'Twist'. A handy corkscrew that easily pops in and out of the bottom of your vino. A truly versati...